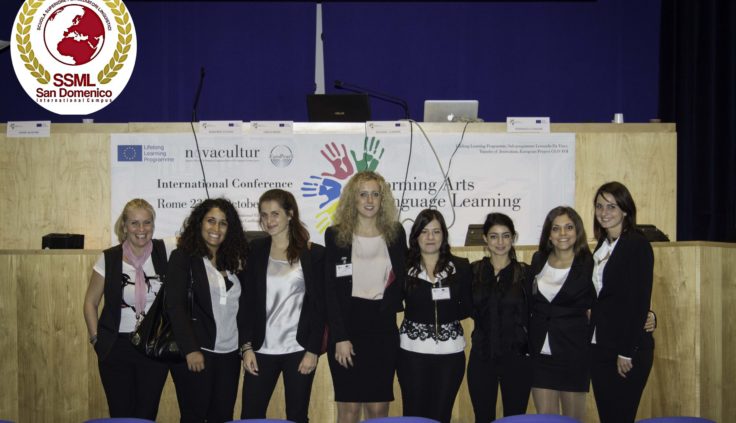 Oct 23, 2014
9:00 AM - 4:00 PM
SSML San Domenico
International Conference on Performing Arts in Language Learning
23/24 Ottobre 2014
Il 23 e 24 Ottobre la SSML San Domenico International Campus ha accolto l'evento "International Conference on Performing Arts in Language Learning" nel quale si è svolto un incontro tra studenti ,professori e istituzioni che si occupano di formazione con l'obiettivo di condividere un orientamento pedagogico comune nella speranza di scambiare esperienze e le migliori tecniche formative .
L'evento è stato promosso dal progetto europeo GLO-TOI:Glottodrama Transfer of Innovation, Lifelong Learning Programme, Action Leonardo Da Vinci, Transfer of Innovation:  www.glottodrama.eu.
Programma:
La conferenza è stata divisa in due sezioni:
1. Teatro, Arti e Lingua: Teatro e tecniche drammatiche nell'educazione, Lingue e Arti, Insegnamento delle lingue attraverso il Teatro nella Scuola e all' Università, Teatro e Insegnamento della Letteratura e Cultura, acquisizione del vocabolario tramite il teatro, Lingue e metodi ludici, Teatro, Tecniche drammatiche e Società.
2. Il metodo Glottodrama: i partner del progetto GLO-TOI hanno presentato i risultati delle sperimentazioni realizzate in diversi contesti educativi nazionali.
Durante la conferenza due eventi speciali sono stati svolti:
2 Laboratori pratici:
1. Il Metodo Glottodrama applicato alla Lingua Inglese
2. Il Metodo Glottodrama applicato alla Lingua ItalianaAtti della Conferenza
Gli interventi saranno pubblicati, in forma di articolo scientifico, negli Atti della Conferenza.
La pubblicazione sarà resa disponibile in formato digitale (ebook) con codice ISBN e sarà distribuita gratuitamente ai partecipanti.Gli Organizzatori
L'evento è organizzato dall'Agenzia di Ricerca e Formazione Linguistica Novacultur di Roma.
Novacultur è l'istituto coordinatore del consorzio europeo "Glottodrama" che sperimenta dal
2007 una nuova metodologia per l'insegnamento delle lingue attraverso il laboratorio teatrale
premiata nel 2010 con il Label Europeo delle Lingue: www.novacultur.it.
Event Location